Since the eruption of the Hunga Tonga-Hunga Ha'apai volcano, the international community has rushed to provide aid to the isolated island nation of Tonga. Friends of Tonga, a non-profit based in Laurel, Maryland, is one of many organizations to provide monetary aid to Tonga.
Located northwest of New Zealand with a population of around 109,000, Tonga is no stranger to natural disasters due to its location and topography. Over the past year, Tonga's main concern has been responding to minor cyclones and keeping the country free of COVID-19. However, Tonga's priorities shifted when an off-shore volcano erupted on January 15, killing three people and devastating thousands. According to NASA's chief scientist, James Garvin, the eruption was approximately 10 megatons of TNT equivalent, making it one of the largest volcanic eruptions documented in the past 200 years.
The eruption isolated Tonga from the global community as volcanic ashes and a tsunami damaged the country's airport, ports, and communication systems, including the internet. With limited contact to the outside world, Tonga became one of the most difficult places to reach. It is also reported the government of Tonga restricted aid delivery in fear of a COVID-19 outbreak. Despite limited contact with the international community and humanitarian aid restrictions, Friends of Tonga has provided support by sending money directly to local organizations.
Friends of Tonga was founded in 2018 by a group of returned Peace Corps volunteers including Michael Hassett and Chiara Collette. The organization aims to provide education and development opportunities for the people of Tonga. Hassett, who currently resides in Maryland, adds Tonga needs monetary donations in order to get back on its feet, not in-kind donations, as there is still a stockpile of unneeded items donated for Tonga's 2015 cyclone. "After a disaster, everyone wants to send supplies and tangible things. They're well-intentioned donations of stuff, but Tongans don't need our used teddy bears and winter coats, they need monetary support," Hassett is quoted in New Castle News.
On January 26, Hassett and his colleagues' organization raised over $53,000 in donations. Friends of Tonga will send donations to partner organizations such as Mainstream of Rural Development Initiative to help pay for food, water, shelter, sanitation, and infrastructure repairs. A week later, Friends of Tonga also worked with the Civil Society Forum of Tonga (CSFT), an NGO that empowers Civil Society organizations by implementing strong leadership programs, to provide $15,000 in emergency relief funds. The organization aims to directly support the CSFT's work with heavily impacted communities, such as those located on the outer and western sides of the island. In an interview with East-West Center Young Professional, Ruivaldo Freitas Viana, Hassett emphasized the fund will support CSFT's work in cleaning rainwater tanks affected by the volcanic ashes in the village of Fahefa.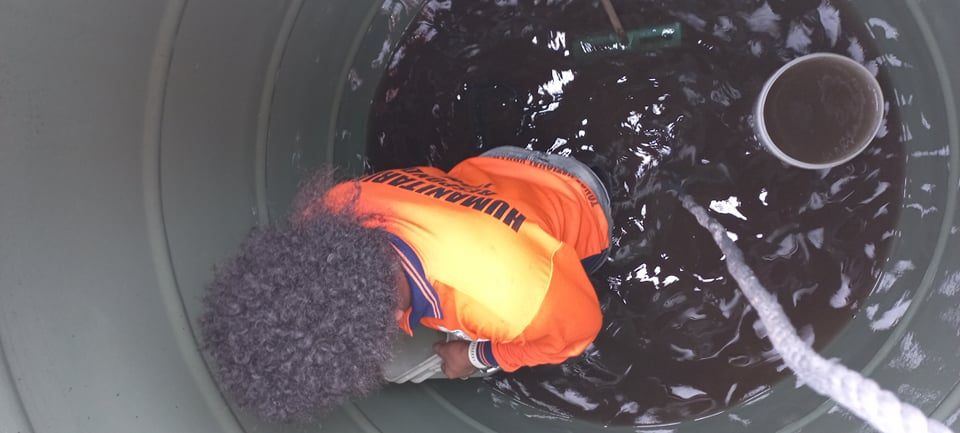 A member of the Civil Society Forum of Tonga cleaning rainwater tanks contaminated by the volcanic ashes in the village of Fahefa. [Image courtesy of Friends of Tonga]

Since it was founded, Friends of Tonga has worked on various other humanitarian projects. In 2021, in collaboration with Schools for Children of the World, Friends of Tonga worked on an Early Childhood Education Programming and Construction Project, and rebuilt the Ta'anga Kindergarten destroyed by a cyclone in 2018. In the near future, the organization will also work with the Minister of Education to provide necessary assistance for school damages.
As more aid arrives from organizations such as the East-West Center, USAID, and Tongan American communities like those in California, Friends of Tonga continues to raise donations to provide much needed support. Hassett adds in the East-West Center interview, although the news from Tonga is disappearing, the help needed for effected communities remains. "Most people aren't going to be thinking about Tonga two months from now, that's when the rebuilding effort will be underway".
Ruivaldo F. Viana is a participant of the Young Professional Program at the East-West Center in Washington D.C. He is a senior undergraduate student at Luther College studying Economics with a focus on Environmental Policy.