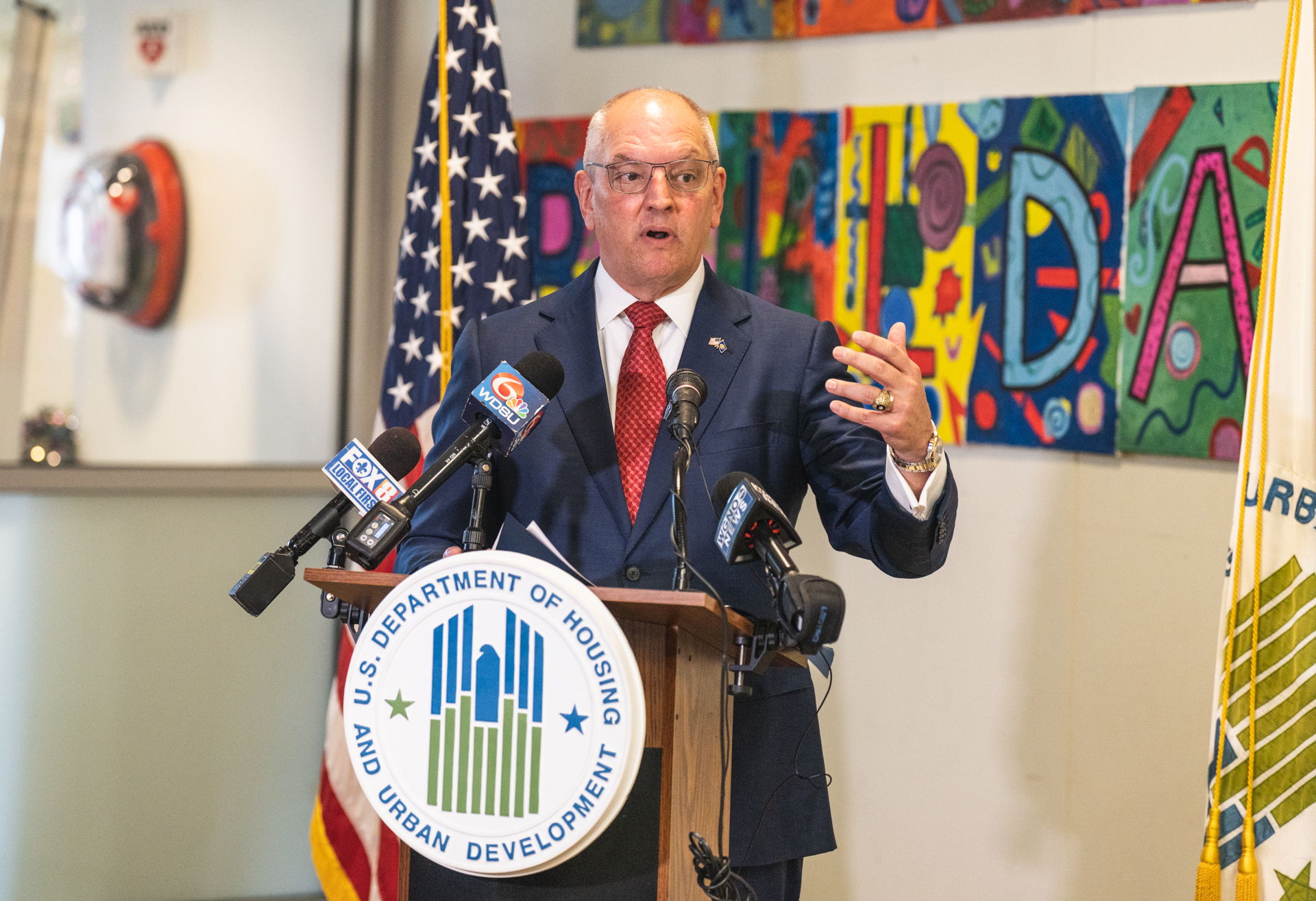 [Image: U.S. Dept. of Housing and Urban Development / Gov. Edwards during Secretary Marcia Fudge's visit to New Orleans, February 2023 / Flickr Public Domain Images] 
Louisiana Governor John Bel Edwards recently concluded a trip to Japan and South Korea as part of a push to develop Louisiana's business ties in Asia. His whirlwind trip began on Friday, March 3rd, and concluded on Saturday, March 11th. While in Japan, he met with business leaders in grain exporting, Polyvinyl Chloride (PVC) manufacturing, and chemical manufacturing. The South Korea leg of Governor Edwards' trip included visits with representatives from Lotte Chemical and Kumho Tire. The chemical and industrial equipment sectors lead the share of overall Foreign Direct Investment (FDI) in Louisiana.
The Louisiana delegation included two entourages tied to Governor Edwards and Louisiana Economic Development (LED) Secretary Don Pierson. Edwards' entourage included First Lady Donna Edwards, Special Assistant Donald Dunbar, Communications Director Lauren Leist and Executive Counsel Tina Vanichchagorn. Meanwhile, Pierson's team was comprised of Larry Collins, LED's Executive Director of the Office of International Commerce, and Ben Fontenot, the office's Assistant Director.
Louisiana's ties with both Japan and South Korea are well-established, but with potential for growth in specific areas. Trade Partnership data utilized by the East-West center suggests some encouraging trends. In 2021, Japan absorbed less than half of Louisiana' goods exports than did South Korea but has funded nearly seven times more Greenfield investment to Louisiana than South Korea has done since 2003. The difference in Greenfield investment in Louisiana between Japan and South Korea shows in the number of Louisiana jobs supported by investments from both countries: while Japanese investment has created nearly 6,800 thousand jobs in Louisiana, South Korean investment has only created 330 so far. However, as seen in the following figure, Louisiana's trade with Korea has supported more direct jobs than trade with Japan since 2017. These differences suggest more economic cooperation is possible between Louisiana and both countries.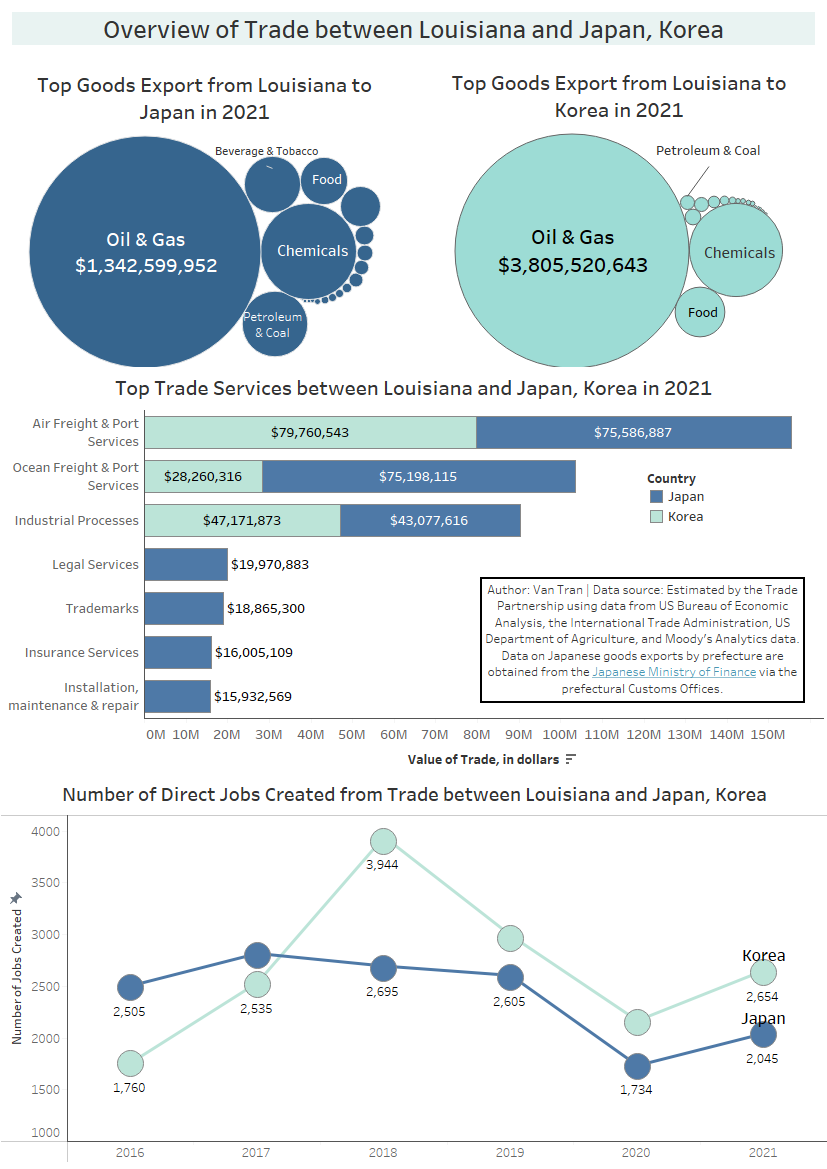 Author: Van Tran | Data: Estimated by Trade Partnership (Washington, DC). More details in graph.

This trip by Gov. Edwards has helped to further this cooperation. In Japan, Gov. Edwards visited Japan's Agency for Natural Resources and Energy to discuss Louisiana's ability to export oil and liquefied natural gas, which is in high demand since Russia's invasion of Ukraine disrupted international supply chains. The Louisiana governor also met with executives of the Ministry of Economy, Trade, and Industry to discuss future investments and opportunities in clean energy. 
Japan has been a vital trade partner for Louisiana, especially in the energy field. The oil and gas industry has contributed $1.3 billion to Louisiana's total exports to Japan, which were worth $2.2 billion. Since 2003, Japanese investment in Louisiana has amounted to $7.6 billion, with the creation of 6,800 jobs in the state, thanks in part to the development of greenfield projects. The relationship between the two was strengthened when Matsue, a city in Japan became a sister city of New Orleans, Louisiana in 1994. 
In addition to key energy industry leaders, the governor and his team met with the US Ambassador to Japan, Rahm Emanuel, to discuss US-Japan partnership agreements related to NASA's Artemis space mission project. The governor also spoke with officials of Shin-Etsu Chemical, the parent company of a Polyvinyl Chloride (PVC) manufacturer that has more than $10 billion worth of facility investments in Louisiana.  
The Louisiana delegation then traveled to northern Japan to learn more about the operations of the Shin-Etsu Handotai Shirakawa Plant and met with top executives from Tokai Carbon Co. to discuss sustainability efforts. 
In Korea, Gov. Edwards met with executives of Lotte Chemical, a leading Korean investor in Louisiana. Lotte Chemical's $3 billion capital investments through expansions in Lake Charles directly created 265 new jobs. Lotte also built a $1.1 billion manufacturing plant here and moved its U.S. headquarters to Lake Charles from Houston. 
Gov. Edwards also visited Kumho Tire, one of the world's largest tire manufacturers, to discuss the company's expanding operations in Louisiana. In January, Kumho announced its plan to build a 350,000 square foot distribution facility and warehouse in St. Mary Parish, Louisiana.  
"Companies like Kumho Tire, Zen-Noh, Shin-Etsu, Tokai Carbon and Lotte Chemical are a big reason why Louisiana regularly ranks No. 1 in per capita foreign direct investment, benefiting our strategic location, abundant natural resources and skilled workforce," Gov. Edwards said on Twitter. 
In summary, Governor Edwards' week-long trip to Japan and South Korea has solidified Louisiana's economic ties with these countries, while also paving the way for future partnerships in the energy, sustainability, and manufacturing sectors. 
This article was co-written by Spring 2023 East-West Center in Washington Young Professionals Van Tran and Angelo Paule.  
Van Tran is an undergraduate student majoring in International Studies at Rhodes College, with a concentration in Asian Studies and immigration. 
Angelo Paule received his Bachelor of Arts degree in Political Science at the University of Guam. He will begin Georgetown University's Master of Science Foreign Service program in Fall 2023.