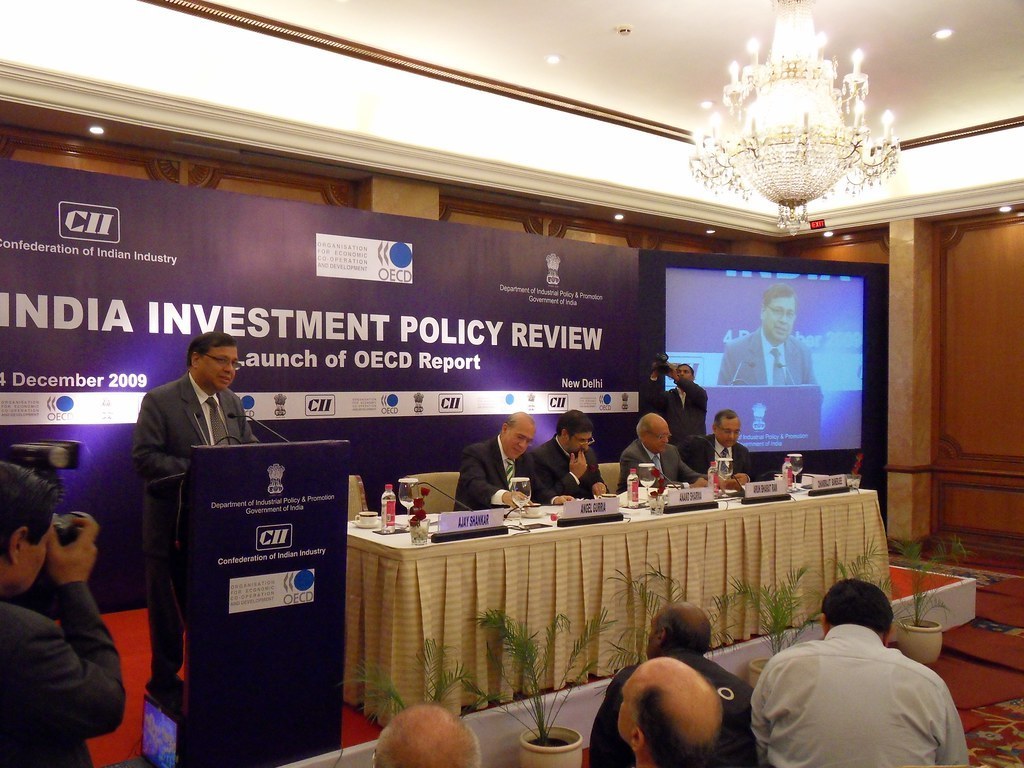 For the second time in three years, in December a delegation of business leaders from New Jersey traveled to India to cultivate ties with Indian businesses. The delegation was organized by Choose New Jersey (Choose NJ), a privately-funded economic development organization with the mission of attracting international capital to the state. The nine-person delegation met with 28 companies and 6 industry organizations representing a diverse range of sectors including banking and finance, information technology, pharmaceuticals and biotechnology.
The trip comes as a larger initiative from New Jersey and Choose NJ to strengthen ties with India. In 2019, Governor Phil Murphy personally led the first delegation to India, visiting six cities over seven days. The delegation was complemented by Choose NJ's launch of the New Jersey India Center whose stated goal is to "offers companies interested in New Jersey free, confidential support to set up their business." New Jersey currently ranks first for Indian greenfield FDI in the Northwest region.
New Jersey also benefits from several sister partnerships with states and cities in India. The most notable of these relationships is New Jersey's sister state relationships with two Indian states: Gujarat and Telangana. The sister state agreements signed after the first delegation's visit in 2019, are designed to increase engagement across numerous sectors including IT, life sciences, biotech, financial technology, clean energy and other sectors. Several cities in New Jersey also have sister city relationships with Indian ones including Edison's partnership with Vadodara in Gujarat and Jersey City's partnerships with New Delhi, Karnavati and Kolkata.
A shining spot in the New Jersey-Indian relationship is the pharmaceutical and biotechnology industries. Of India's 14 biggest pharmaceutical companies in 2018, 10 of them have opened corporate offices in the state. In 2021, the Institute of Life Science Entrepreneurship (ISLE) at New Jersey's Kean University and Choose NJ announced a new program with the Association of Biotechnology Led Enterprises (ABLE), an organization representing Indian biotech firms. The program will increase cooperation between Indian biotech companies and New Jersey through training opportunities and entrepreneurship assistance for companies looking to enter the state. ABLE was first introduced to New Jersey during Gov. Murphy's first delegation with Choose New Jersey in 2019.
India's Diaspora community further ties New Jersey with the world's largest democracy. Almost 5% of New Jersey's population is South Asian, the largest proportion of any state in the country. In some cities, South Asians make up approximately 40% of the population, and the state has the most South Asian elected officials in the country, despite its small size. Leaders from both New Jersey and India have hoped to leverage these existing ties to facilitate even greater economic engagement.
As part of a four-day trip to the United States for the 13th Trade Policy Forum ministerial meeting in January 2023, Indian Commerce and Industry Minister Piyush Goyal stopped in New Jersey to address the Indian diaspora community in Edison, encouraging them to invest in the country. "You stand to gain a lot and your families, and businesses have a huge opportunity (to prosper in India)," he said.
Referring to the second delegation, Tarun Gupta, Group Managing Partner at the New Jersey India Center echoed these hopeful sentiments: "I am confident this second trip will deliver even more results in the months to come and further strengthen the bilateral relationship between our two governments."
Alec Weiker is a research intern at the East-West Center in Washington. He is a fourth-year undergraduate at Georgetown University studying International Relations with a double focus on the Pacific and National Identity.