The Washington National Guard and the Malaysian Armed Forces are now three years into their newly established partnership under the National Guard's State Partnership Program (SPP). Major General Bret D. Daugherty, commander of the Washington National Guard, and General Tan Sri Raja Mohamed Affandi bin Raja Mohamed Noor, Chief of the Malaysian Armed Forces, signed the agreement on August 16, 2017, taking the first step toward long term cooperation. Since the signing of the agreement, the two entities have begun to hone key collaboration in "peace enforcement operations, including counterterrorism and humanitarian assistance missions".
Exercise Bersama Warrior which ran from March 10-20, 2020 in Kuala Lumpur, Malaysia and Exercise Keris Strike are the partnership's trademark joint bilateral exercises. Unlike many of the other exercises the Washington National Guard participates in with partner forces, Bersama Warrior is conducted solely by the states' National Guardsmen without any active duty contingent. The March 2020 Bersama Warrior exercise included 29 members of the Washington National Guard alongside Malaysian Armed Forces conducting staff level strategic planning. These efforts will translate into tactical practice of counterterrorism and humanitarian assistance response efforts in the 2021 iteration of Bersama Warrior. This cycle between staff planning and tactical execution of planned training scenarios occurs on an annual basis.
U.S. Army Lt. Col. Angela Gentry, Washington Army National Guard, discusses battle drills with her Malaysian counterpart, Maj. Nurkhairunisa, during Exercise Bersama Warrior in Malaysia, March 10, 2019. (Photo by U.S. Army National Guard photo by Sgt. 1st Class Jason Kriess)
Peace enforcement in counterterrorism to combat violent extremist organizations (VEO) is one of the four major National Defense Strategy challenge areas facing the Indo-Pacific. While the Indo-Pacific is not the US military's primary focus for counterterrorism operations, the over 50% uptick in terrorist attacks in the region has become a serious concern in maintaining regional safety, security, and stability.
Table 1: Number of Terror Attack in Southeast Asia 1970 - 2018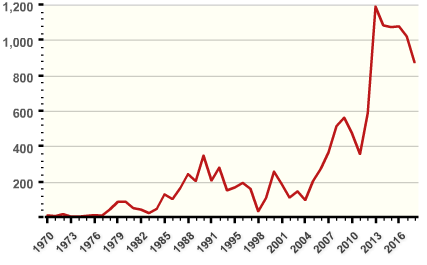 Source: Global Terrorism Index, Global Terror Database
Malaysia is not Washington State's first National Guard partnership. Thailand and Washington have been committed via the SPP since 2002. With two neighboring SSP partners, National Guard leadership is hoping to pursue trilateral exercises in the mutual interest area between US-Malaysia-Thailand in future years leaning toward the Indo-Pacific Command's multilateral engagement focus.
Daugherty, following the 2017 partnership signing, expressed interest to the Chief of Malaysian Armed Forces that the collaboration expand to include "commerce, education, health care, and energy." While limitations for Malaysian citizens to visit the United States have been reduced with the approval by the Federal Aviation Administration (FAA) for Malaysian Airlines to land in the United States, the US government has yet to see a horizon on signing the bilateral Free Trade Agreement that has been in negotiation since 2006. Despite the challenges in commerce, educational exchange is at a two way all-time high. Malaysia is the second most popular location for US Fulbright participants. Meanwhile, at the University of Washington, students have established the Malaysian Student Association University of Washington (MASA WU), a non-profit organization focused on connecting Malaysian studies and families while promoting cultural understanding throughout the local community.

Charity Borg is a research intern in the Young Professionals Program at the East-West Center in Washington. She is a Captain in the United States Air Force and graduated from Northeastern University with a Master of Science degree in international relations in 2019.