The Association of Southeast Asian Nations (ASEAN) is a 10-member regional bloc with a combined GDP of $284 trillion, a population of 650 million, and a land mass covering more than 1.7 million square miles.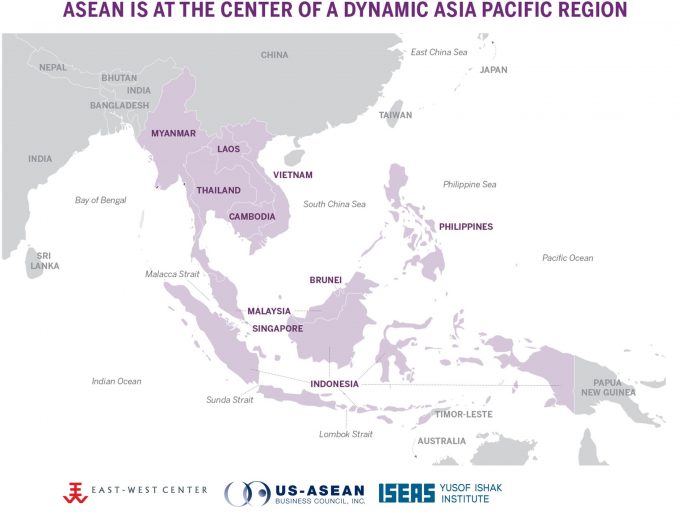 Founded in 1967 by Indonesia, Malaysia, the Philippines, Singapore, and Thailand, ASEAN has since expanded to include Brunei, Cambodia, Laos, Myanmar (Burma), and Vietnam. ASEAN holds semiannual ASEAN Summits, numerous ministerial meetings, and convenes Indo-Pacific powers to discuss security and political issues. ASEAN seeks to promote economic growth and regional stability among its members through consultation, consensus, and cooperation based on the Treaty of Amity and Cooperation (TAC). By combining the member states' influence, ASEAN has been able to affect Indo-Pacific economic, political, and security trends to a much greater degree than its members could achieve individually. ASEAN's community building effort comprises three pillars: the Political-Security Community; Economic Community; and Socio-Cultural Community.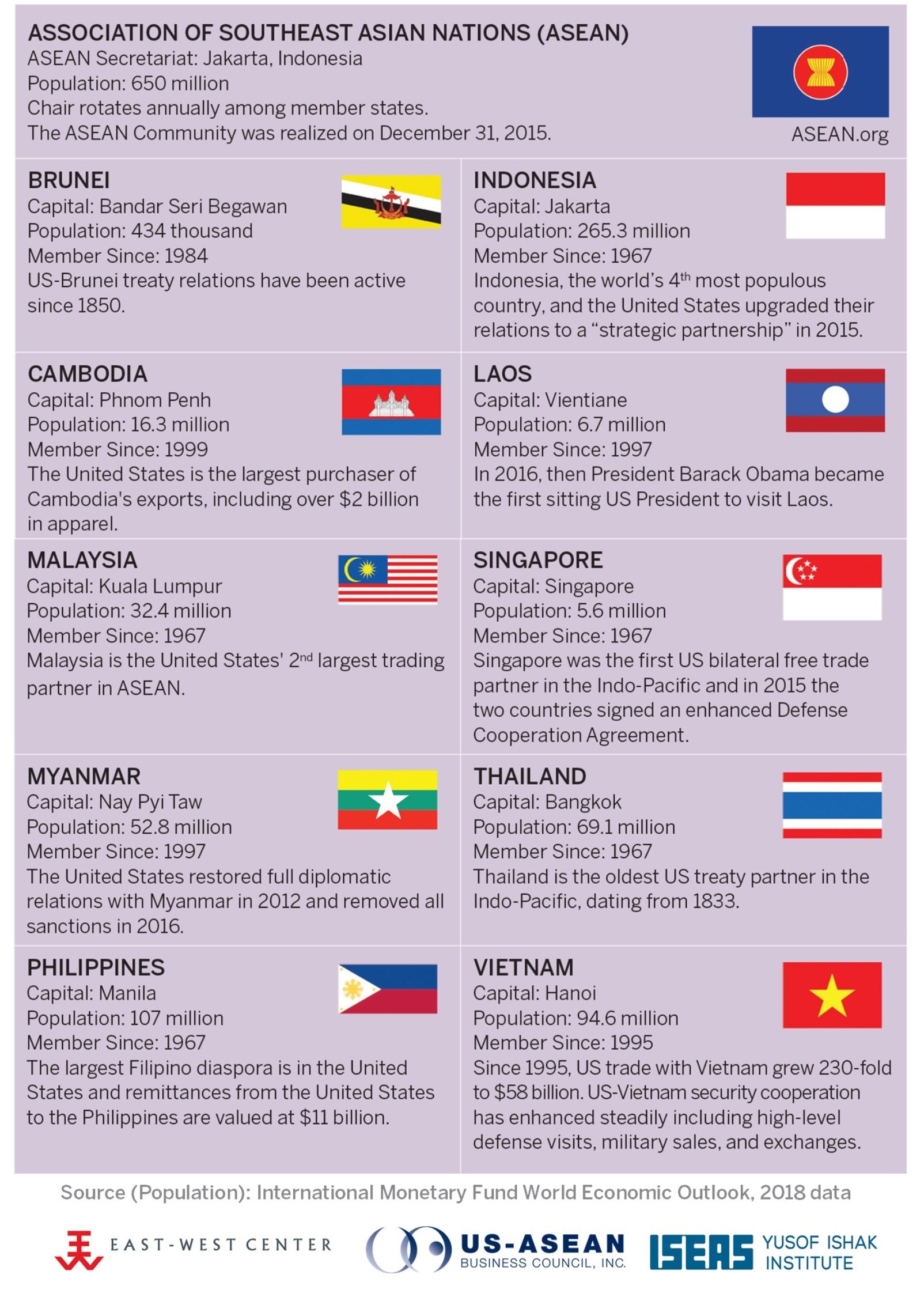 ASEAN GDP
[schema_chart chart="treemap" data="174" axis="Country Name" series="Country Name" aggregate="GDP (current US$)"]
ASEAN Per Capita GDP
[schema_chart chart="horizontal-bar-chart" data="177" series="Per Capita GDP (Constant US$)" axis="Country"]
Why is ASEAN important?
ASEAN Member States are key diplomatic, economic, and security partners for the United States. ASEAN occupies a critical geographic position straddling the sea lanes between the Indian Ocean in the west and the Pacific Ocean in the east. With over $3.4 trillion in trade passing through the disputed waters of the South China Sea each year, including $208 billion in US trade, maritime security is a priority for both the United States and ASEAN.
The US-ASEAN relationship began in 1977 and has since expanded significantly. The United States signed the Treaty of Amity and Cooperation (TAC) in 2009 and was the first non-ASEAN country to establish a resident ambassador and permanent mission to the organization. The United States joined the East Asia Summit (EAS) in 2011, and institutionalized annual ASEAN-US Summits in 2012. In 2015, the US-ASEAN relationship was elevated into a strategic partnership, and in 2016 the first multi-day US-ASEAN Summit was held at Sunnylands in Rancho Mirage, California. In 2017 the United States and ASEAN celebrated 40 years as dialogue partners. For information on the Trump Administration and ASEAN, see the Trump Administration and Indo-Pacific Relations tracker.
ASEAN Head of State Visits
[schema_chart chart="regional-map" data="179" axis="Country of Visitor" region="asia"]
US Presidential Visits to ASEAN
[schema_chart chart="regional-map" data="178" axis="Destination" region="asia"]
The US military participates in multilateral and bilateral military exercises with eight ASEAN member states.
Major Annual and Biennial Military Exercises
[schema_chart chart="regional-map" data="175" series="Number" axis="Country" region="asia"]
As a region vulnerable to natural disasters such as typhoons, earthquakes, and tsunami, the US military has contributed to Humanitarian Assistance and Disaster Relief (HADR) missions in the region, while the US government and private sector have also provided assistance.
Disaster Aid to ASEAN States
[schema_chart chart="horizontal-bar-chart" data="176" series="Amount of Aid (US$)" axis="Country"]


For more information, see the ASEAN data pages.