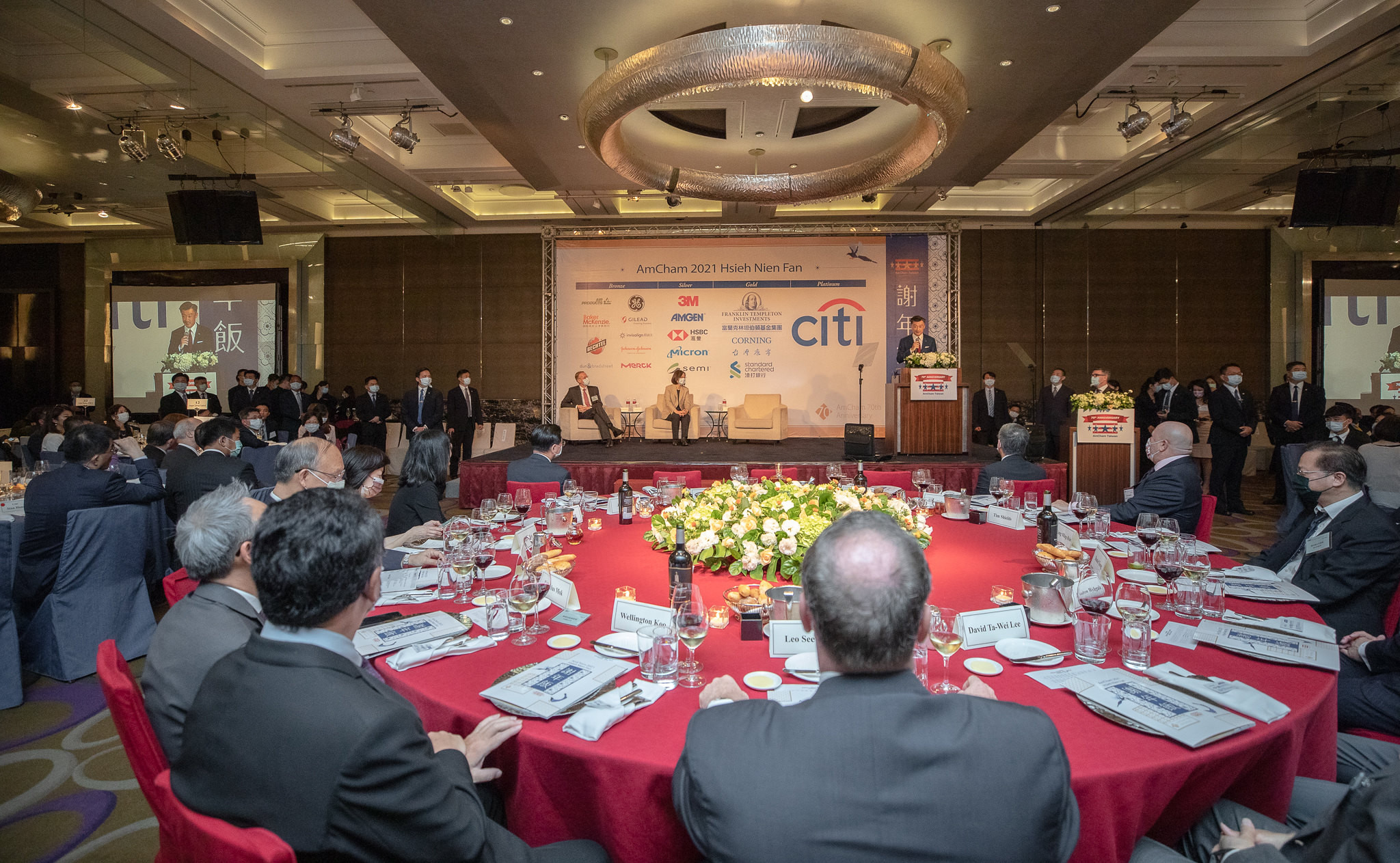 Amid increasing geopolitical tensions, American businesspeople still hold Taiwan in high regard as a place for doing business. However, contingency planning is now higher on the agenda.
American companies in Taiwan reported confidence in its business environment for the coming year, despite increased concern over geopolitical risks in the region, according to the latest business climate survey conducted by the American Chamber of Commerce (AmCham) in Taiwan.
National security replaced pandemic-related controls in 2022 as one of the most pressing issues American companies feel the government needs to address, as Taiwan gradually removed most COVID-19 restrictions during the second half of the year.
The survey was conducted several months after US House Speaker Nancy Pelosi visited Taiwan in August 2022, a move which sparked several days of Chinese military exercises in the waters around the Taiwan Strait.
33% of the 214 companies that responded reported significant disruption to their company as a result of increased tensions across the Taiwan Strait. This disruption included elevated concerns or policy changes from their global headquarters, as well as increased shipping, insurance and financial costs.
Among the survey respondents, more than half are focused on professional services, healthcare-related technologies or information and communications technology.
"Of concern to many were global economic and geopolitical uncertainties, including cross-Strait tensions, energy supply issues, and the pace of regulatory reform," said Vincent Shih, chairperson of AmCham Taiwan. "On the latter point, members indicated that more needs to be done to bring Taiwan's regulatory framework into line with global norms."
47% of the survey respondents said they either have revised or plan to revise business continuity plans to address the new geopolitical climate. 17% reported their company had relocated operations from China to a market other than Taiwan.
In a response to the survey, Taiwan's National Development Council pledged to continue its interactions with AmCham, put forward regulatory reforms to meet international standards and build a favorable business environment in Taiwan.
On February 8, the day after the survey results were published, President Tsai Ing-wen said she hoped to sign an agreement with the United States which would eliminate double taxation and increase investment and trade between the two sides.
Tsai made the comments while presenting an award to former US Deputy Secretary of Defense Paul Wolfowitz, who now serves as an honorary chairperson to the US-Taiwan Business Council.
In September 2022, the East-West Center partnered with AmCham to launch the Taiwan Matters for America/America Matters for Taiwan publication, featuring data and analysis of economic, diplomatic, and cultural ties between the two sides at the national, state, and local levels.
US investment in Taiwan amounts to nearly $31.5 billion, accounting for almost 3% of all US foreign direct investment (FDI) in the Indo-Pacific, according to data compiled in Taiwan Matters for America/America Matters for Taiwan. Manufacturing is the largest sector for US investment, with over $5 billion invested in computers and electronic product manufacturing alone.
Aaron McNicholas is a participant in the Young Professionals Program at the East-West Center in Washington. He is a graduate student in the MA in Asian Studies program at Georgetown University, with a concentration in politics and security.