South Florida and Japan have strengthened ties with the launch of a new Japan-America Society chapter, promoting cooperation in business, technology, culture, art, and sports, as well as enhancing people-to-people connections between Japan and the US.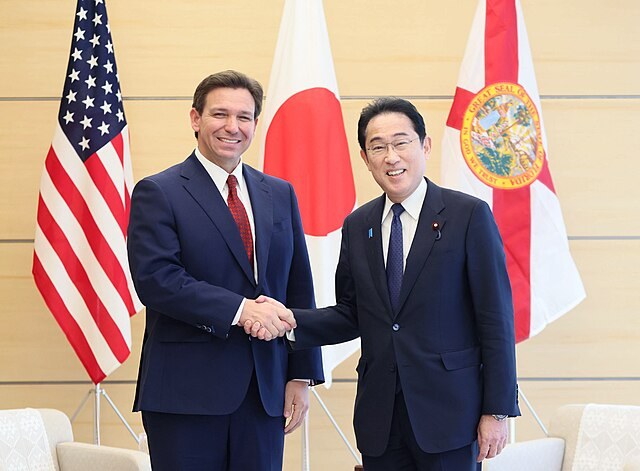 [Image: Japanese Prime Minister Fumio Kishida and Florida Governor Ron DeSantis met on April 24, 2023, in Tokyo| Wikimedia Commons | Attribution 4.0 International (CC BY 4.0)]
On March 31, 2023, the excitement was palpable at the official residence of Kazuhiro Nakai, the Consul-General of Japan in Miami, where a crowd of over 75 people gathered to launch the Japan-America Society of Miami/South Florida (JASMSFL). JASMSFL will join a network of approximately 40 independent Japan-America Societies in 32 US cities around the country. The launch of this new chapter was made possible with the support of the National Association of Japan-America Societies (NAJAS) and the Embassy of Japan in the United States.
"Whether you are doing business with Japan, curious about Japanese culture, or a Nikkei (persons of Japanese descent) living in South Florida, the Japan-America Society provides an opportunity for you to grow personally and professionally," said Dave Woodward, one of the founding directors of JASMSFL, and the executive director of the Florida delegation for the Southeast US/Japan Association.
NAJAS, established in 1979, has offered various programs to promote ties between Japanese and Americans at the local level. NAJAS also acts as the US administrator for three Japan-based exchange programs, including the Keizai Koho Center Teacher Fellowship, the High School Diplomats, and the Japan-America Grassroots Summit, each offering a unique opportunity for Americans and Japanese to meet, learn, and develop friendships.
The new Miami/South Florida chapter aims to promote cooperation in business, technology, culture, art, and sports between South Florida and Japan. JASMSFL will serve Miami-Dade, Broward, and Palm Beach counties, and work with institutional partners to strengthen US-Japan people-to-people connections.
JASMSFL also highlighted its presence in Broward County and the Greater Fort Lauderdale area when Consul-General Nakai and JASMFL's steering committee received an invitation to Fort Lauderdale to meet with the mayor and the Greater Fort Lauderdale Sister Cities International president. The Consul-General acknowledged Japan's ties with Broward County, thanks to more than 10 Japanese companies such as NIPRO and Konika-Minolta operating in Fort Lauderdale, and Yamaha, Suzuki, Honda, and Japan's marine electronics companies participating in the Fort Lauderdale Boat Show in October 2023. Mr. Nakai recognized JASMSFL's role in building stronger connections between Japan and Broward County, including further cultural exchange and the possibility of establishing a new sister-city relationship.
During this visit, Fort Lauderdale Mayor Dean Trantalis gave Consul General Nakai an award of recognition for contributions in improving Japan-Fort Lauderdale relations. "I think Japanese investors will find it extremely beneficial for them to look at Fort Lauderdale as a significant investment opportunity," the mayor said back in February 2023.
Japan and Florida have maintained a friendly relationship since the Consulate-General of Japan in Miami was established in 1992, which remains the only East Asian Consulate-General in Florida today. With 40,000 Japanese Americans living in the state, Florida has made recent efforts to strengthen its bond with Japan. Alongside legislation that would require Asian American Studies in K-12 schools and Florida Governor DeSantis's visit to Japan this April, where he met Prime Minister Fumio Kishida, the launch of the new Japan-America Society chapter will strengthen the Florida-Japan relationship.
Several Japan-US organizations have sent their best wishes on the launch of JASMSFL, including the US-Japan Council, the US-Japan Conference on Cultural and Educational Interchange, the Japan-U.S. Friendship Commission, the America Japan Society (AJS) of Kagoshima – Miami's sister city, and the US Consulate in Fukuoka.
"The region's strong base of Japan investment and cultural interests now can better combine with fresh energy, connections, and perspectives from greater Miami to propel this relationship into higher orbits befitting the times," said Andrew Wylegala, President of the NAJAS on LinkedIn.
The launch of JASMSFL and the support it has received from various organizations and individuals highlight the growing interest in strengthening the bond between Japan and South Florida. It is a significant step towards enhancing people-to-people connections and promoting cooperation in various fields between the two countries.
Van Tran is a participant in the Young Professionals Program at the East-West Center in Washington. She is an undergraduate student majoring in International Studies at Rhodes College, with a concentration in democracy & governance, Asian Studies, and immigration.