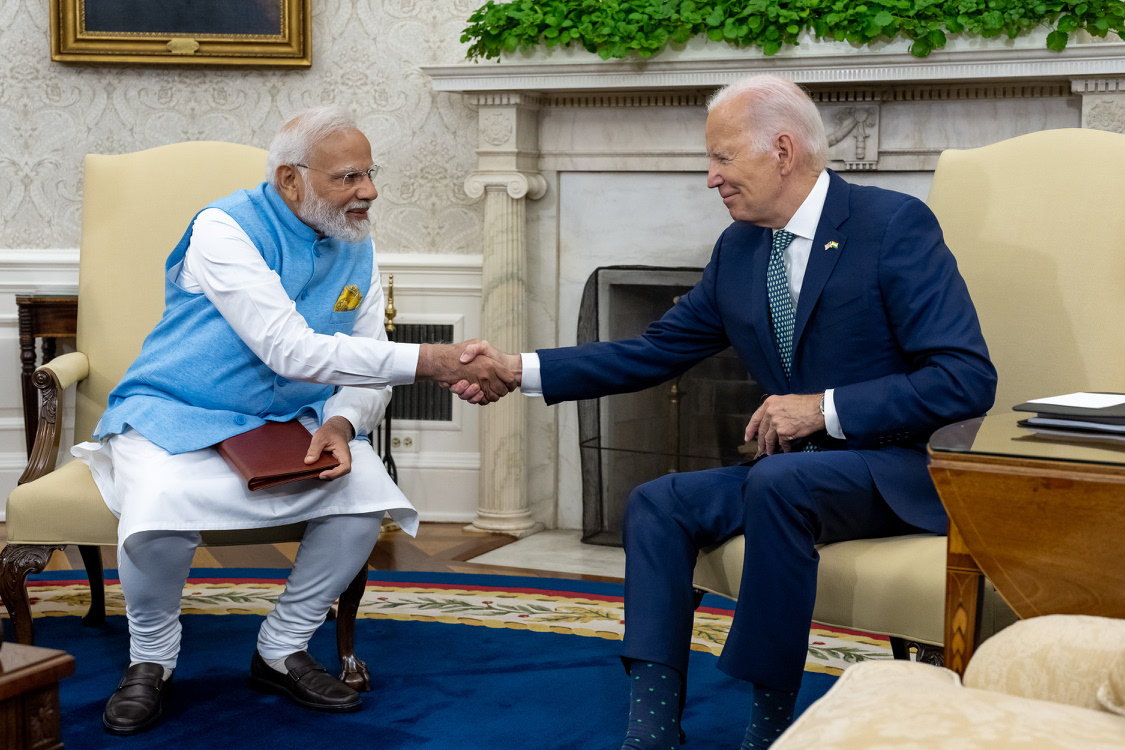 On June 22nd, 2023, Indian Prime Minister Narendra Modi traveled to the United States for a four-day State Visit at the invitation of President Joseph R. Biden Jr. Alongside a welcome ceremony at the White House and an address to a joint session of Congress, the visit saw the announcement and signing of numerous agreements and initiatives aimed at strengthening the relationship between the two countries.
Significant progress was made in fostering US investment in India's up-and-coming semiconductor industry. Micron Technology, a memory chip firm based in Boise, Idaho, announced that it would establish its first semiconductor facility in India. Micron and the Gujarat state government signed a memorandum of understanding (MoU) to build an assembly and test facility in the city of Sanand. As an established industrial hub, Sanand possesses existing talent and manufacturing infrastructure that Micron's new factory will both utilize and cultivate. The total investment in this new facility will be around $2.75 billion, with Micron contributing $825 million, 50% coming from the Indian federal government, and the remaining 20% coming from the Gujarat state government.
Designed as an assembly and test facility, this plant will focus on transforming wafers into ball grid array (BGA) integrated circuit packages, memory modules, and solid-state drives, which will then be sold in domestic and international markets. This facility will be 500,000 square feet (about half the area of Chicago's Millennium Park) with four assembly lines and is expected to create 5,000 direct new jobs with Micron in India and the United States and 15,000 new positions in the larger chip community over the next several years.
Alongside Micron's investment into a new Indian factory, two other California-based US firms are pursuing initiatives to support growing India's semiconductor knowledge and ability to collaborate with the United States. Lam Research, headquartered in Fremont, announced an initiative to train upwards of 60,000 Indian engineers in nanotechnologies virtually. They will employ software such as Semiverse Solutions and SEMulator3D to deliver a "virtual fabrication environment" that will allow the training to occur in India. This circumvents the hurdles presented by a lack of existing advanced domestic fabrication technology. Applied Materials, based out of Santa Clara, will invest $400 million to build a "collaborative engineering center" in the southern Indian city of Bangalore. This center is expected to create 500 new engineering jobs and approximately another 2,500 jobs in manufacturing.
The main headline of the visit came in the realm of India-US defense cooperation. India has traditionally relied on Russia as its largest arms supplier. However, as the war in Ukraine rages on, Russia has been unable to deliver on its arms deliveries to India, and the US has sought to fill the vacuum and become India's preferred partner. The US firm General Electrics announced that it would partner with the Bangalore-based public-sector Hindustan Aeronautics Limited to allow fighter jet engines to be jointly developed and built in India. This engine, the F414, powers US and allied fighters such as the US F/A-18E/F Super Hornet and South Korean KF-21 Boramae, and will now be built into jets for the Indian Air Force, including the new HAL Tejas Mk II multirole fighter. This deal means that 90% of the components used to build these new fighters will be indigenous, representing a significant win for Modi's "Make in India" initiative.
India also finalized a deal with General Atomics Aeronautical Systems, Inc (GA-ASI) worth $3 Billion to procure 31 M9-QB SkyGuardian and SeaGuardian Drones for its navy, air force, and army. These drones will greatly boost India's Intelligence, Surveillance, and Reconnaissance (ISR) capabilities in both the Indian Ocean and along the Himalayan border with China. Earlier this year, GA-ASI also signed agreements with Bharat Forge and Hindustan Aeronautics Limited to jointly produce drone components such as turboprop engines and landing gear in India. As such, these drones are expected to be partly assembled in India.
Modi's visit also saw the launch of the India-US Defense Acceleration Ecosystem, or INDUS-X. INDUS-X is a component of the US-India Initiative on Critical and Emerging Technology (iCET) that seeks to establish a "Defense Innovation Bridge" between Indian and US startup companies and research institutions. At a conference hosted by the US- India Business Council, firms from both countries showcased new technologies that would contribute to a more stable Indo-Pacific Region. Some US companies present included space technology startups such as the South Carolina-based space technology startup Blue Space and Leolabs from California. Through INDUS-X, US startups such as these two will be encouraged to increase cooperation with Indian firms producing similar technology, which will be streamlined through adjustments to relevant regulatory regimes. Companies engaged in this cooperation will also have access to joint innovation funds and formal and informal mentoring from more established defense firms in their respective countries. INDUS-X also seeks to support defense innovation by forging partnerships between leading academic and research institutions from both countries. American universities such as Pennsylvania State University aim to establish best practice workshops in tandem with Indian counterparts at institutions such as IIT Madras and IIT Kanpur.
During the welcome ceremony, President Biden stated that he believed the relationship between the United States and India is "among the most consequential in the world" and now "stronger, closer, and more dynamic than any time in history." As India and the United States strengthen their partnership, these investments both help India increase its technological and defense capability and open a new market for the US companies to do business in, all the while giving the United States a stronger partner in the Indo-Pacific. These agreements send a message to companies worldwide that India is open for business.
Varij Shah is a participant in the Young Professionals Program at the East-West Center in Washington. He is an undergraduate student at the University of Texas at Austin, majoring in International Relations & Global Studies and Government with a specialization in International Security and a regional focus on East Asia.