Despite the COVID-19 pandemic, the slowing growth of the global economy, and geopolitical uncertainties in Southeast Asia, the United States still topped Malaysia's list of foreign direct investment.
In September 2023, the Investment, Trade, and Industry Minister of Malaysia, Tengku Datuk Seri Zafrul Tengku Abdul Aziz, revealed that a major US firm pledged to expand their business to Malaysia.
Alton Industry Ltd Group (Alton Group), a global supplier of consumer and commercial tools, appliances, and floor care, pledged to invest approximately $418 million (RM2 billion) over the next seven years for their expansion into Malaysia. Phase I of the investment package is $105 million to set up the Group's manufacturing and research and development (R&D) base in Johor State, Malaysia. Alton Group has a manufacturing base in China but now wants to diversify its supply chain by expanding to Malaysia.
US Investment Record in Malaysia
Though China is Malaysia's largest trading partner, the United States is the biggest source of foreign direct investment into the country, amounting to $13.2 billion in 2022. Malaysia is also among the top three countries in ASEAN attracting the most US foreign direct investment amounting up to $39.5 billion from 2020 to 2022. The United States' direct investment in Malaysia is led by manufacturing, wholesale trade, and non-bank holding companies, technology, and renewable energy.
In August 2023, United States Ambassador to Malaysia Brian McFeeters said US companies have made investment pledges totaling US$100 billion in various sectors in Malaysia over the last 18 months. Those investments align with Malaysia's recently launched New Industrial Master Plan 2030, which aims to create an investment-friendly environment and rapidly embrace technology to elevate the manufacturing sector's ecosystem.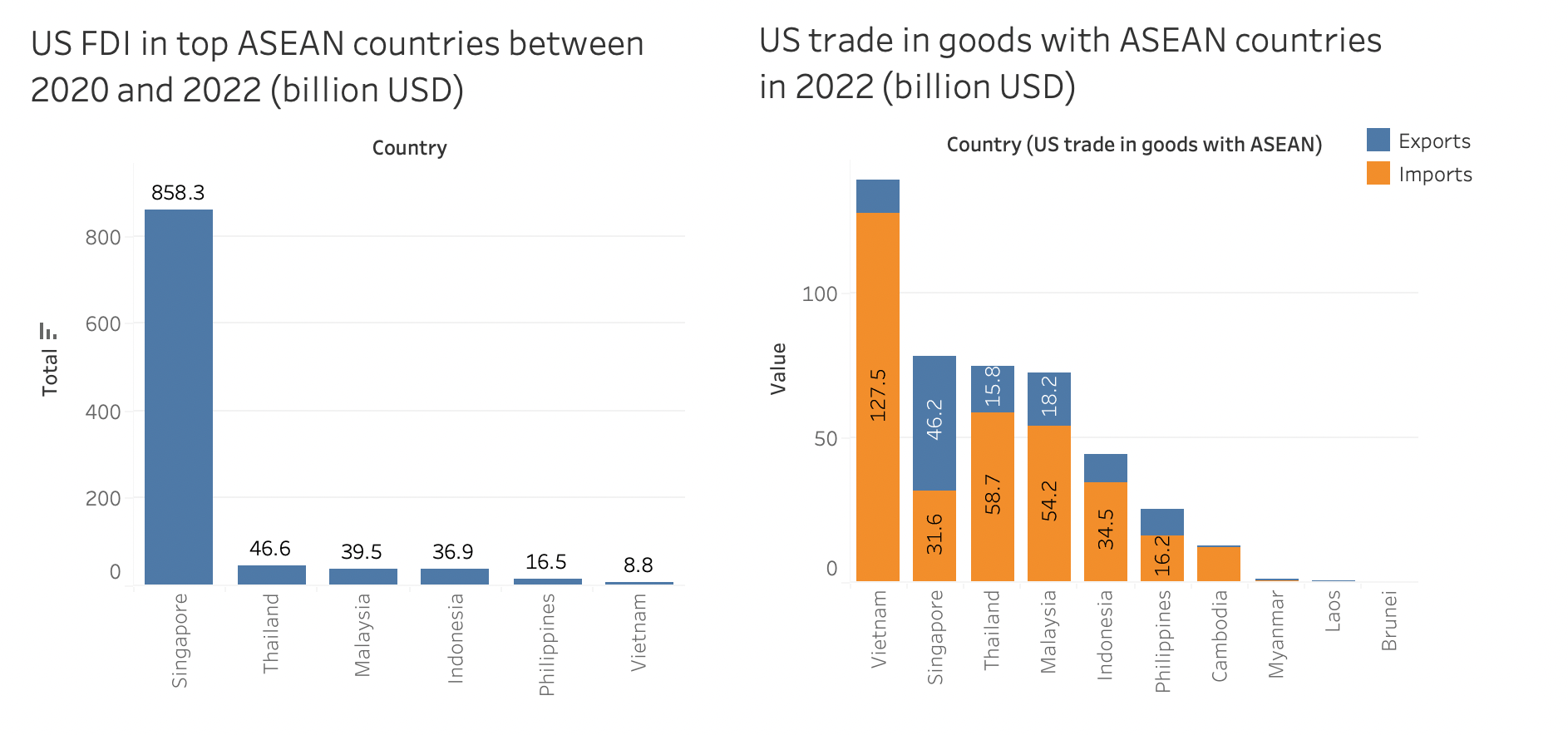 Why Malaysia?
There are several reasons why Malaysia remains a top investment destination for US companies. First, Malaysia has a relatively stable and well-developed economy within the ASEAN region. During the past 10 years, Malaysia's GDP growth fluctuated around 5-6%, except for the year 2020, when the COVID-19 pandemic challenged Malaysia's economic growth, causing the GDP growth to decrease to –5.5%.
Second, Malaysia has implemented policies and incentives to attract foreign investment, including tax incentives, special economic zones, and investment-friendly regulations. According to Milken Institute's Global Opportunity Index in 2022, Malaysia ranks first among the emerging Southeast Asian countries with the most potential to attract foreign investors, mostly thanks to recent steps to relax restrictions and enact policies to capitalize on trade developments. This September, Malaysia released the New Industrial Master Plan 2030 with four key missions: to advance economic complexity, to "tech up" for a digitally vibrant nation, to push for net zero emissions, and to safeguard economic security and inclusivity. The plan is expected to help to attract more FDI.
Third, Malaysia is a top ASEAN country that possesses high-quality infrastructure. The country has made substantial investments in infrastructure development, which has improved connectivity, transportation, and logistics. According to a study by PwC in 2016, Malaysia's infrastructure spending per capita is about $705 – only behind Singapore with $2,049 – standing at more than double Indonesia's and Vietnam's figures ( $314 and $284, respectively).
Fourth, Malaysia's population has a relatively high level of English proficiency, which can be an advantage for US businesses looking to expand their operations and hire a skilled workforce. According to Education First's 2021 English Proficiency Index, Malaysia ranks among the top three countries in Asia for proficiency in the English language, after Singapore and the Philippines.
Finally, like other Southeast Asian countries, Malaysia's geostrategic location with access to regional markets and international shipping routes makes it a preferred hub for US companies to reach the broader ASEAN market.
However, there are still several obstacles to US companies investing in Malaysia, such as regulatory challenges, ownership restrictions, intellectual property protection, and levels of corruption. In the coming year, the two governments will need to build up more mechanisms and frameworks to address those issues to create favorable conditions for US companies to continue investing in Malaysia.
Thao Dang is a Young Professional at the East-West Center in Washington. She is a graduate student at the Elliott School of International Affairs, George Washington University, where she is focusing on US foreign policy.