Launched in 2010, the Australia Matters for America/America Matters for Australia project is a comprehensive and multi-activity effort to demonstrate and track Australia's importance to the United States, and the United States' importance to Australia.
This project consists of a printed publication and online articles, data visualizations, and information about the US-Australia relationship.
Emphasis is placed on generating and disseminating user-friendly analysis and visual graphics – on both quantitative and qualitative data – making it useful to political leaders, policymakers, business people, analysts, media, and students.


East-West Center
The East-West Center promotes better relations and understanding among the people and nations of the United States, Asia, and the Pacific through cooperative study, research, and dialogue. Established by the US Congress in 1960, the Center serves as a resource for information and analysis on critical issues of common concern, bringing people together to exchange views, build expertise, and develop policy options. The Center's Washington, DC office focuses on preparing the United States for an era of growing Asia Pacific prominence.
The Center is an independent, public, nonprofit organization with funding from the US government, and additional support provided by private agencies, individuals, foundations, corporations, and governments in the region.
The views expressed in articles by external contributors are those of the author and do not necessarily reflect the policy or position of the East-West Center or any organization with which the author is affiliated.


Our Partners
Australian National University
For over 70 years, The Australian National University, Australia's #1 University and one of the world's finest, has worked to realise the ambitions of the visionary Australians who founded it. With a distinctive research culture, ANU claims four of the seven Nobel Prizes awarded to Australia. ANU creates global leaders: you will find our nearly 100,000 alumni leading in political, business, government, and academic sectors all over the world. Although our horizons are global, we are committed to the land on which we meet and its original custodians, hosting some of the nation's most influential Indigenous academics and research on Indigenous issues and culture. Regionally, our long-standing international engagement and expertise delivers us unrivalled impact beyond our borders, particularly throughout Asia and the Pacific. As the national university, ANU propels Australia into the world.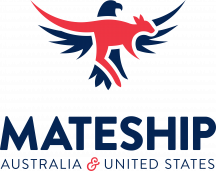 Embassy of Australia, Washington DC: Mateship Program
The United States and Australia share mateship – a friendship between the two countries that endures through mutual respect and common values. Forged in the trenches of World War I, this mateship is the bedrock of a unique contemporary relationship across many shared fields of endeavour; including defence and security cooperation, extensive trade and investment links, education, research and development, performing arts, tourism, sporting rivalry, and space exploration.




Project Staff
Director: Satu Limaye, PhD
Coordinators: Caitlin Brophy, Peter Valente, Sarah Wang